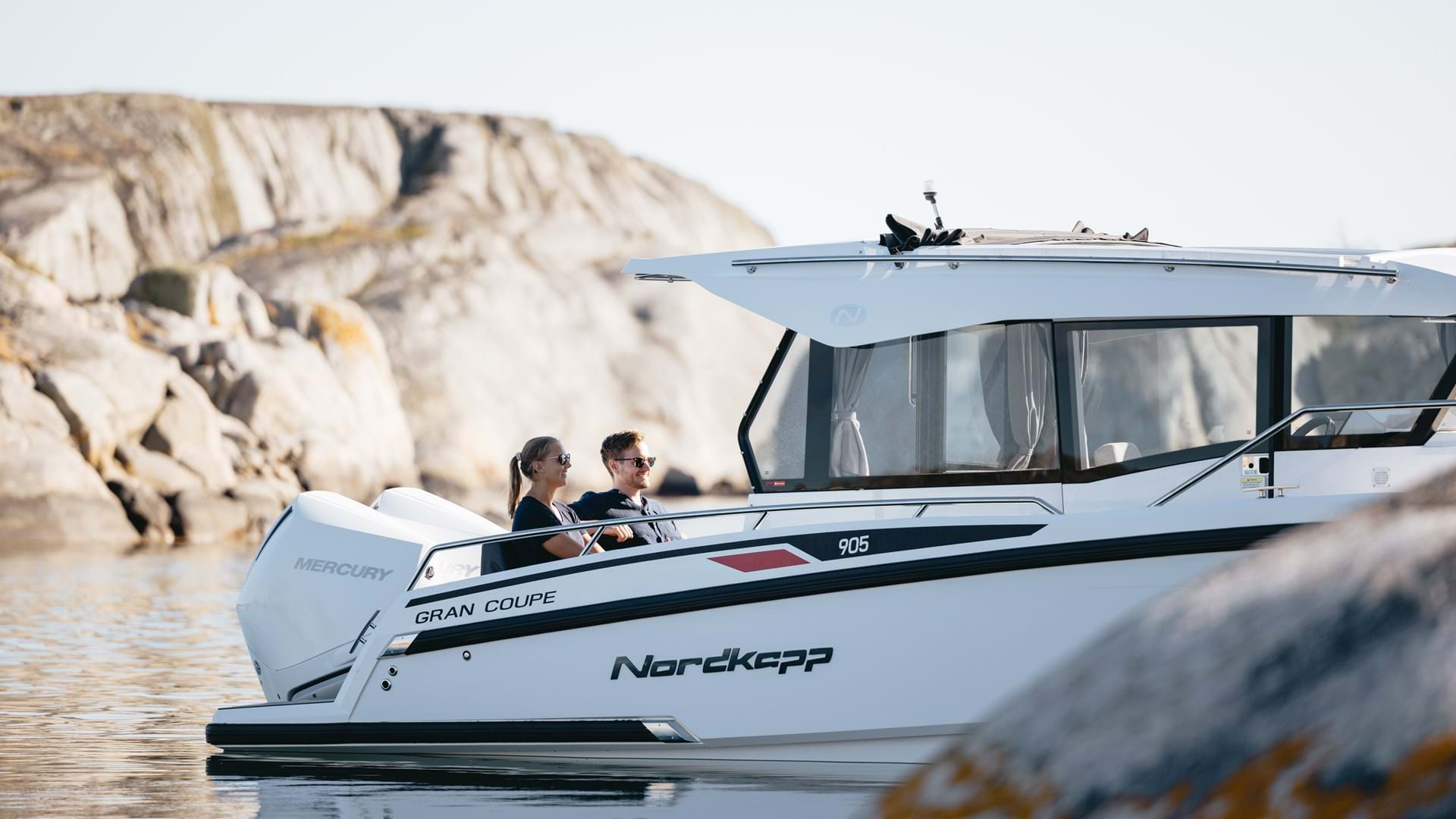 Different boats for different people: Find the right boat type for your adventures
Posted by Mats Hjørnevik, Marketing manager, Nordkapp
Every seasoned sailor started somewhere, and I'm no exception. I still remember the surge of exhilaration coursing through my veins when I first got my feet wet, so to speak. There's nothing quite like feeling the wind whip through your hair as you cruise across the water's edge, a horizon of endless possibilities unfolding before you. But let's not sugarcoat it—entering the boating world can be overwhelming. In my opinion, one of the toughest decisions is choosing the right type of boat.
Center Consoles—Versatility at Its Best
In my experience, the Enduro 705 exemplifies what a centre console boat can offer. These boats are often easy to navigate, thanks to their balanced design and central steering position, making them a favourite among seasoned boaters and newcomers. The steering helm provides an unobstructed, 360-degree view, and the lightweight construction makes the boat agile. The design maximizes deck space, providing easy access from bow to stern. The centre console is an excellent choice for those who wish to partake in various water activities—from snorkelling and diving to simply lounging on deck. Plus, the boat offers a balance of stability and speed, delivering a versatile experience suitable for both leisure and more active pursuits.
Common centre console features:
Nimble handling, which makes the boat suitable for all experience levels.
A central driving console offering 360-degree visibility while providing ease of movement from bow to stern.
Minimalistic and practical design.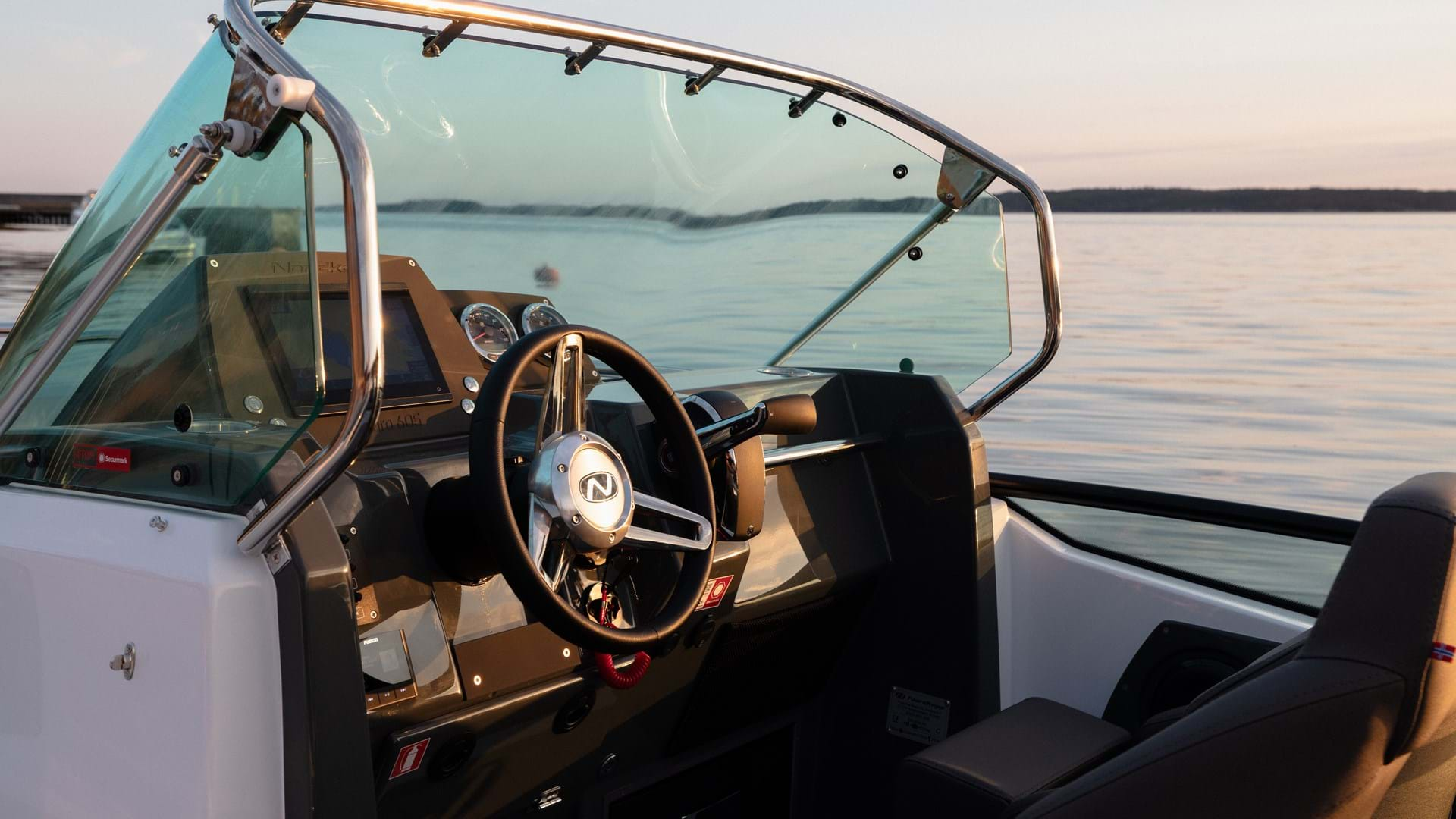 You are always in control at the helm of the Enduro 605.
RIB Boats—The Adventurer's Choice
Enter the Airborne 7, the quintessential RIB. For thrill-seekers like myself, these are the perfect vessels for an action-packed day at sea. With a rigid hull and durable inflatable sides, these boats are incredibly stable and easy to handle. RIB boats are highly versatile and are used for various activities, from leisure cruising and water sports to rescue operations and military applications. Their lightweight and agile nature makes them ideal for quick manoeuvring and high-speed thrills. Whether cruising through calm waters or navigating choppy seas, a RIB provides unparalleled security. These are excellent choices for adventure seekers, and with the luxury of the Airborne series, you get a great companion for thrilling day trips with friends. Light, agile, and strong—that's a RIB boat for you.
Common RIB features:
A rigid hull and inflatable sides providing durability and impressive stability.
Lightweight construction delivering agile handling and high speeds with increased fuel efficiency.
Sporty looks and minimalistic layout.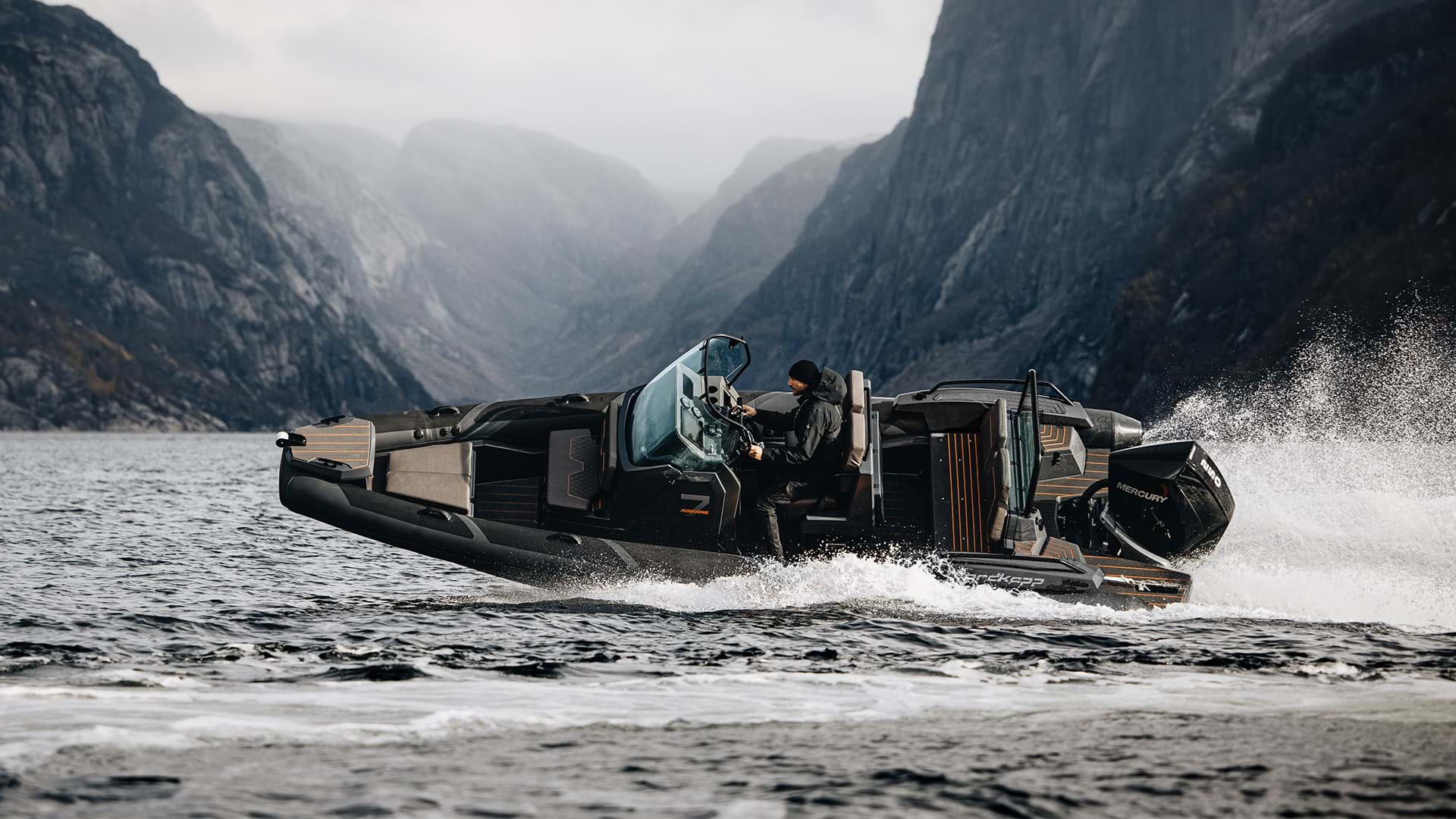 The Airborne 7 showing the Fjord who's boss.
Daycruisers—Luxury and Leisure Combined
The Noblesse 720 is my go-to when I don't want to compromise on comfort. As the name reveals, the daycruiser is an excellent choice for day-long outings on the water, and you also have the opportunity for cosy overnight stays aboard, thanks to the comfortable sleeping cabin. These boats typically feature luxurious seating, a sun deck, and a place for sleeping. Daycruisers provide an opulent boating experience for people who want to enjoy a day on the water without sacrificing the luxuries of life. Whether it's a romantic getaway or a high-class outing with friends and family, a daycruiser excels.
Common daycruiser features:
A comfortable, shielded cockpit providing shelter from the wind and high freeboards for additional safety.
Ample social areas in the cockpit/stern and a cosy sleeping cabin for shorter stays at sea.
Luxurious design and amenities.
Enjoying the sunny side of life in the Noblesse 720.
Bowriders—Sporty and Family-Friendly
Meet the Avant 705, a perfect family bowrider with an edge. What sets it apart for me is how it combines the spacious layout of a centre console boat with the protected cockpit of a daycruiser. The term "Bowrider" derives from the boat's layout, which features an open bow area with seating, providing an unobstructed view of the surroundings. With roomy seating at the bow and the stern, it becomes a natural gathering space for families. The cleverly designed cockpit allows everyone—adults and children alike—to enjoy the ride in comfort. You get a stable, easy-to-navigate vessel with lots of room with sporty driving characteristics.
Common bowrider features:
Spacious layout and a protected cockpit with ample seating areas in the bow and aft.
Agile handling and sporty driving characteristics.
Sleek and sporty design.
Room for the whole family in the Avant 705.
Wheelhouse Boats—The Seasoned Mariner's Choice
If you read our previous piece on year-round boating, you know why the wheelhouse boat allures me. If we check out the Coupe 830, we have a perfect example of the elegance and comfort that a wheelhouse boat can provide. Enclosed steering and cabin areas make this boat ideal for those who frequently venture out in varied weather conditions. Wheelhouse boats are ideal for long voyages at sea thanks to a rich offering of luxurious amenities and ample social- and sleeping areas. It is also a comfortable and practical choice if you commute from your cabin or island home to the mainland. The wheelhouse provides shelter, making it possible to enjoy boating throughout the year. These boats are well-suited for long-distance travel and offer abundant storage space.
Common wheelhouse features:
A roomy sleeping cabin and bathroom with luxurious amenities.
A spacious wheelhouse providing shelter from the elements, making it suitable for year-round boating.
Elegant design, delivering stunning looks and a steadfast performance.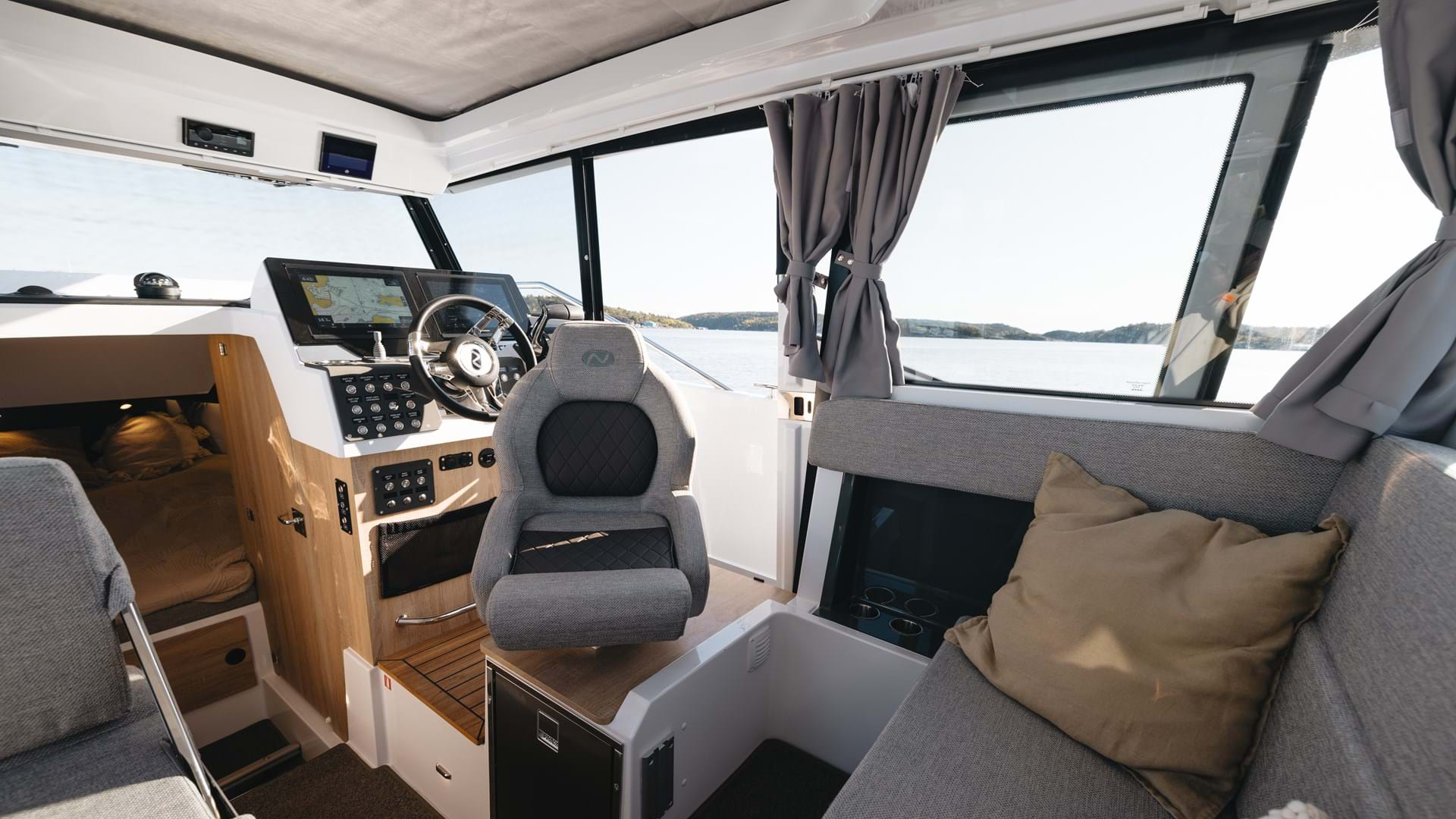 Always room for quality time inside the wheelhouse of the Coupe 830.
Choosing Your Companion at Sea
I hope this guide helped you understand what sets these different boat types apart. When choosing the right boat for your lifestyle, always consider what you value most and take the time to understand the features that best suit your needs. Visit your local Nordkapp dealership, and we'll help you find your ideal companion at sea.