Powered by the revolutionary V12 powerhead from Mercury and equipped with the hull technology from Nordkapp, the new Gran Coupe 905 V12 is a real born child with the Nordkapp DNA in its backbone. Together with the angled windscreen and powerful looks, the GC 905 V12 is developed with improved aerodynamics in mind, and it will stick out in the crowd. For sure. 
It´s really a driving machine for those of you looking for that little extra making the big difference. The worlds first outboard V12 engine, combined with counter rotating propellers and a solid V-hull provides driving pleasure from the first spark. The V12 from Mercury is developed to give you a balanced drive at low as well as high speeds.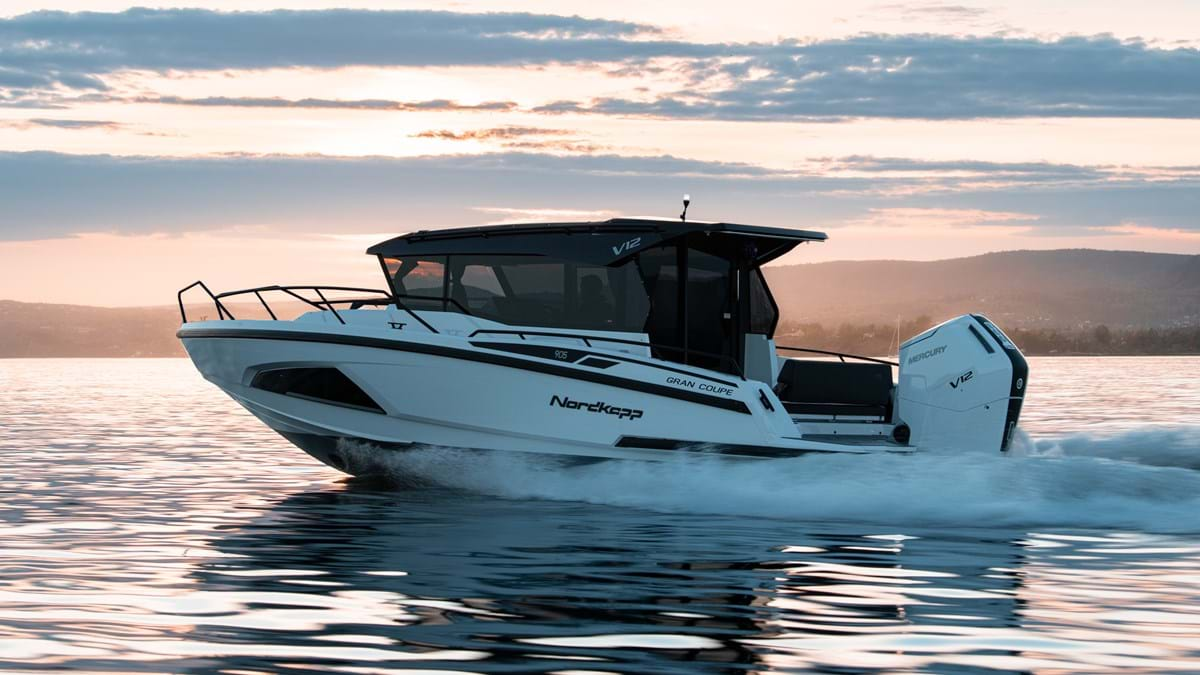 At Nordkapp, we are occupied by following our dreams. And from dreams, we create visions. When we follow our dreams, we create exciting visions. 
What we know from exciting visions? They definately create more interesting products and results. Just like the Gran Coupe 905 V12.
A 9 meter coupe boat with a V12 engine? Why not, we thought.
Gran Coupe 905 V12 is a continuation of the modern, Scandinavian design, look and feel from Nordkapp. Focusing on the continuous improvements on aerodynamics, the design of the GC905 V12 will for sure give you attention from people around you. At the same time, the Gran Coupe 905 V12 attends to function and practical details you will appreciate when at sea.  
The all black details throughout the exterior, tinted windows, tailored V 12 interior and the powerful Mercury Verado V12 at the transom, the GC 905 V12 stands out. 
The engine
Delivered with the first outboard V12 in the world, the Gran Coupe 905 V12 gets a distinct and easilly recognizable character. 
The aura
The aerodynamic design, the sporty details in black color as well as the tailored interior definately separates you from the crowd. 
The comfort level
The groundbreaking combination of the Mercury V12 and the Nordkapp hull provides the next level of sophisticated comfort.