Airborne 6, the latest addition to the RIB family Airborne from Nordkapp, is a dynamic and fast RIB of 6 meters with space for the whole family. Powered by Mercury Four Stroke technology, it gives you enough power when you need it, while feeling comfortable to drive in both calm and challenging conditions.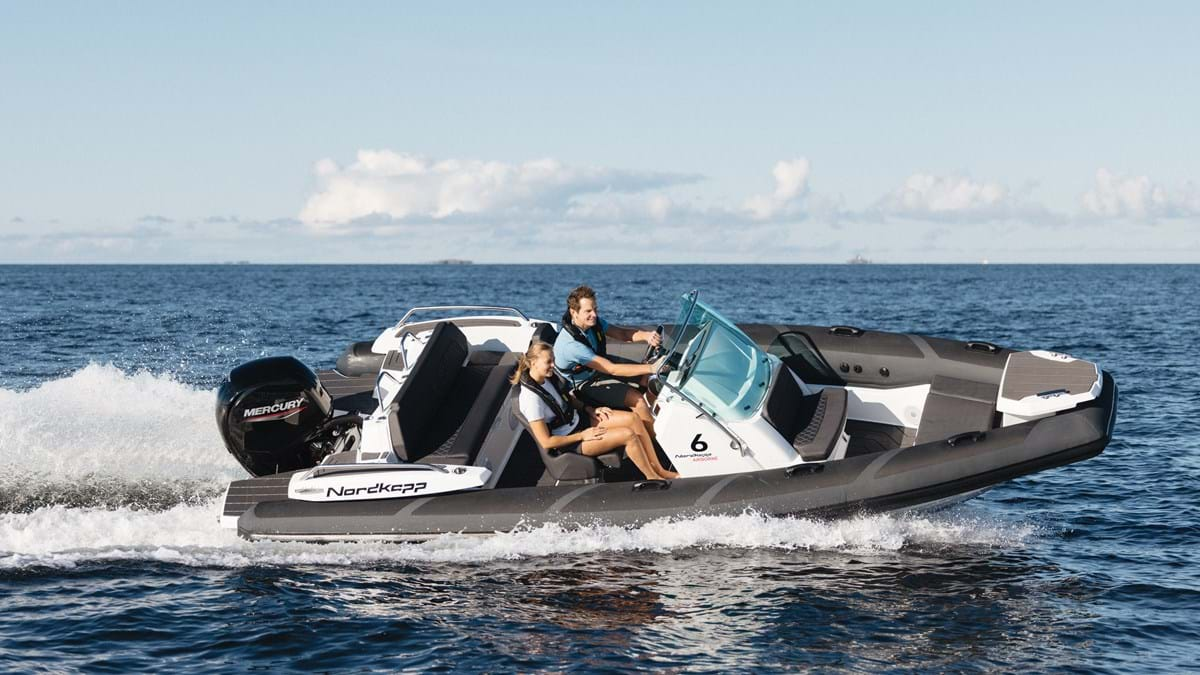 Smart, functional details provides easy access to the sea
Many of the details from the larger Airborne 7 and 8 can also be found in the Airborne 6. Practical storage space for the fenders on each side aft in the boat as well as the characteristic platform in the bow makes it easy to quickly to get out on the sea. The driver's console on the Airborne 6 is tailored and specially designed for this boat, so that it provides maximum protection from wind and weather, while giving you plenty of room to move around the boat. The boat has several storage spaces, one in the bow sheltered by a hatch, one in the console with a large loading hatch in the front and a large storage space beneath the aft bench. In addition, you will find two storage spaces for rope work and the anchor on both the port and starboard side aft.
Custom seating provides social zones
The boat has both the option of a sunbed in the bow (optional), which is easily installed and gives you a great place to relax. Airborne 6 can be equipped with chairs (similar to the centre console boats from the Nordkapp), which means you can turn the chairs 180 degrees and create a great social zone in the cockpit. This makes the Airborne 6 suitable for enjoyable day trips at sea where you can spend much of the time in the boat.
Large swimming platforms and a focus on mobility.
One of the great advantages of the Airborne 6 ishow easy it is to move around the boat. This makes it easier for you need to handle the boat alone and you can move freelyfrom stern to bow in order to moor when you arrive at the marina or pier. The console, which has been designed specifically for Airborne 6, is placed to starboard and provides plenty of space both on the port and starboard side when you are moving around.